Welcome to the official website of
Chuck Norris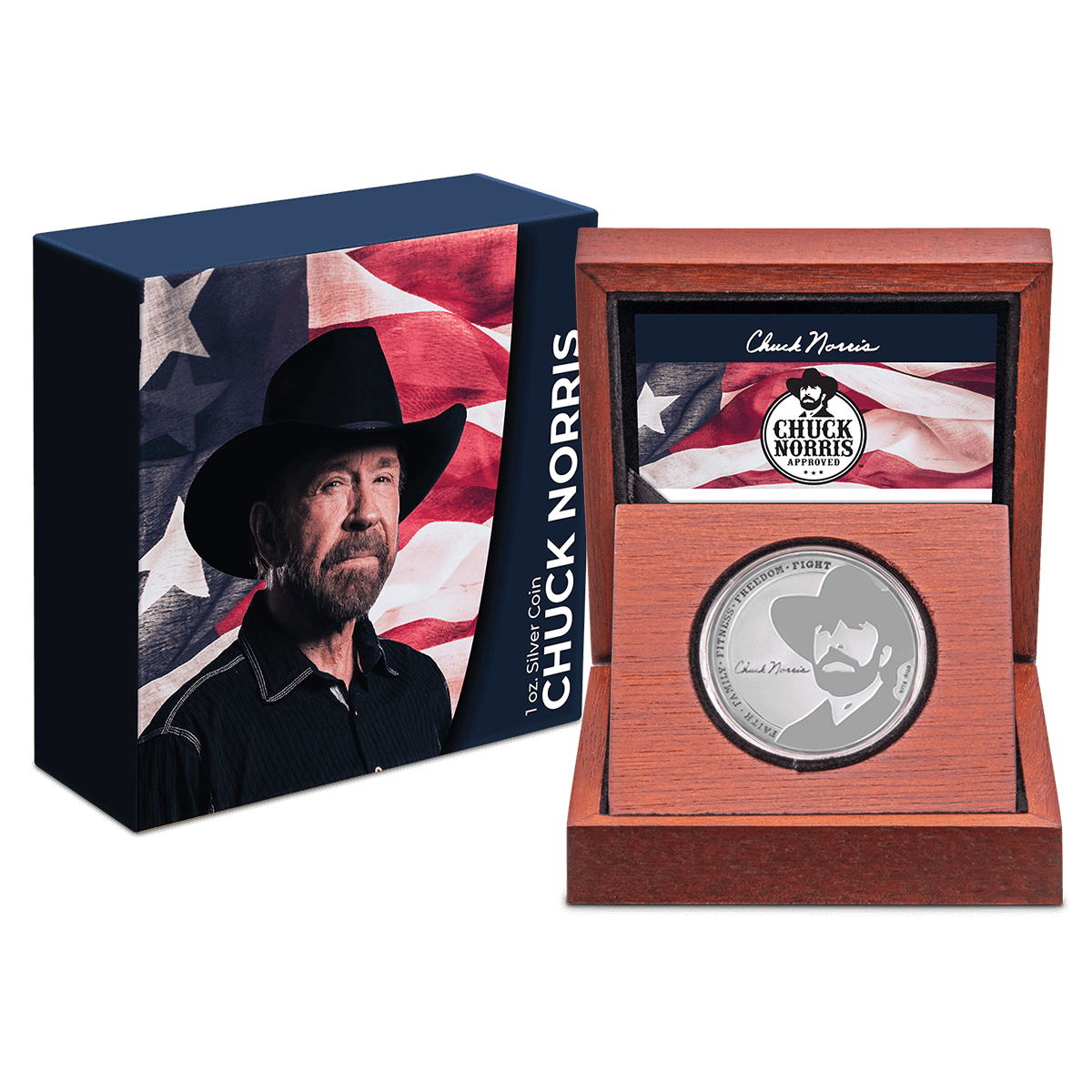 Chuck Norris 1 oz. Silver Coin
**LIMITED QUANTITY**
Looking for holiday gift ideas? What is better than the gift of silver? Now you have the chance to protect your future with the first ever, legal tender, Chuck Norris 1 oz Silver coin. This limited edition coin represents Chuck's 5 Principles for Life: Faith, Family, Fitness, Freedom and Fight. The coin comes ready to showcase in a beautiful wooden box that includes a Certificate of Authenticity.
Limited quantities available
Uncirculated genuine silver coin
1 troy oz of 99.9% pure silver
Includes Certificate of Authenticity
Visit the Official Chuck Norris Merch Store Now!
Click here to visit the store and see what's new.
Facebook
The Official Page of the Official Man
Facebook
The Official Page of the Official Man
Twitter
From the Thumbs of Chuck Himself
CForce Bottled Water
A Force of Nature
Kickstart Kids
Teaching Character Through Karate
UFAF
United Fighting Arts Federation
Total Gym
The Best Home Gym on the Market
Chuck Norris Facts
The Original Master of the Meme
IMDB
Details of Chuck's Badassery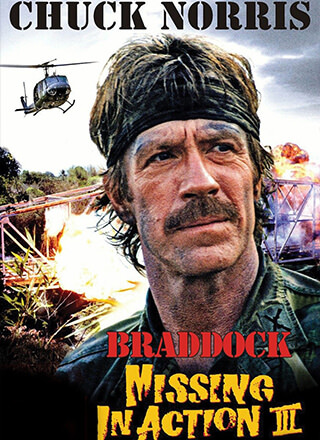 The Man, the Myth, the Legend.
His Stories:
1958
How Chuck Became Chuck
My real name is Carlos Ray Norris. During boot camp at Lackland Air Force base in San Antonio, Texas, one of the guys in the barracks, who was Hispanic, asked me if I knew what Carlos means in English. I said, "Yea, it is Charles." Then he said, "The nickname for Charles is Chuck. That is what I am going to call you." Well, all the guys starting calling me Chuck and it stuck.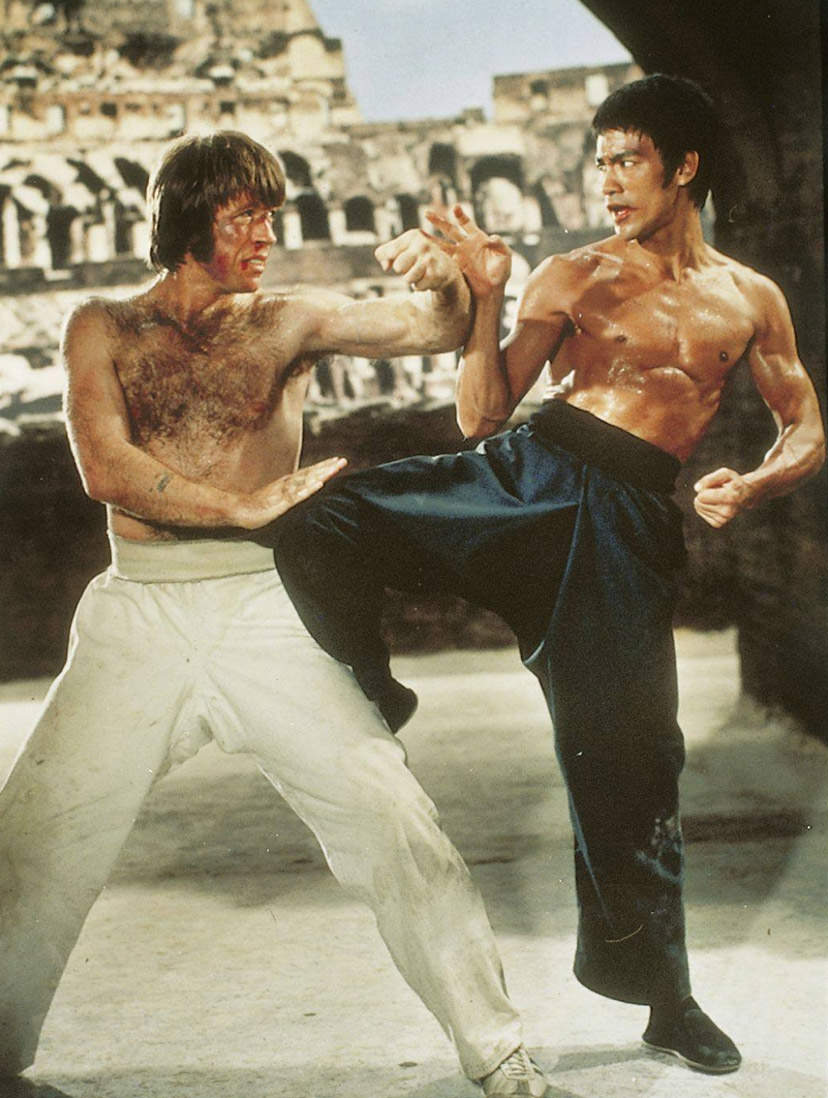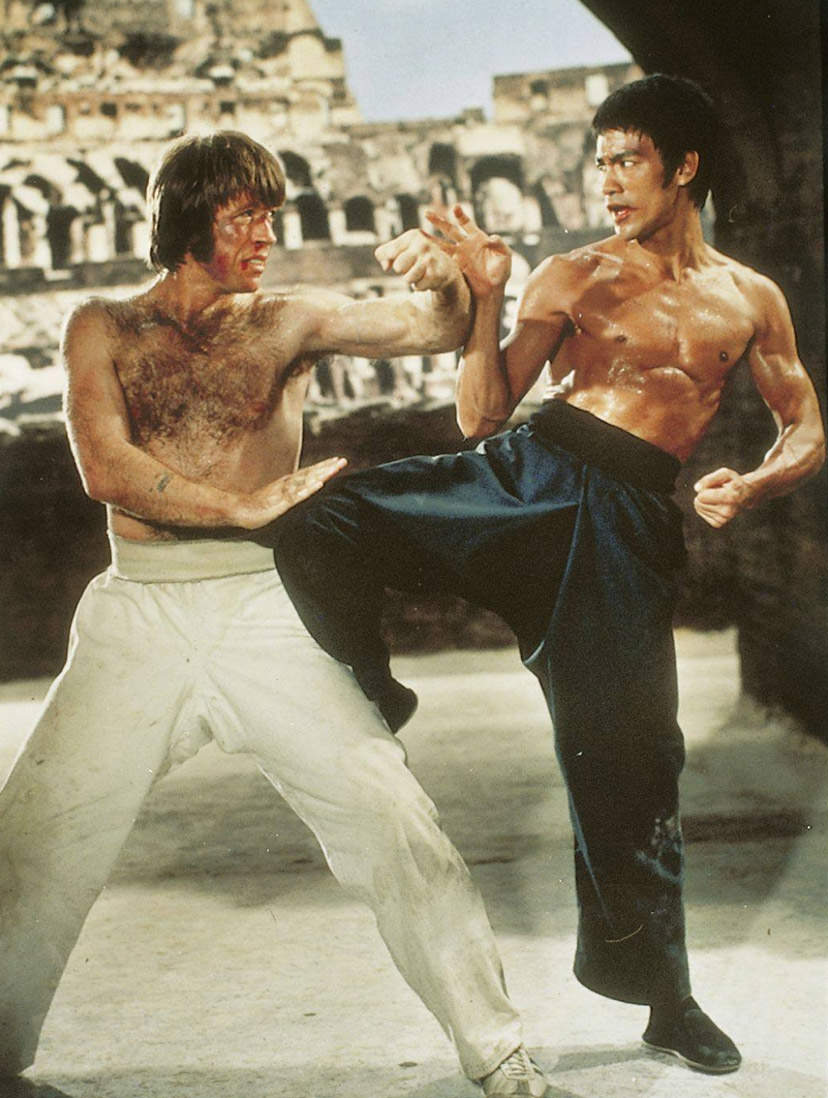 1972
I Let Him Win
In 1972, Bruce Lee was starring in Return of the Dragon. Bruce called me and told me about the film and said he was going to be doing a fight scene in the Roman Colosseum and he wants me to be his opponent. "It will be a fight scene that everyone will remember. We will be like two gladiators in ancient times." Kiddingly I say, "Who wins Bruce?" "I do, I'm the star of this film." "Oh, I see," I said, "you want to beat up the current World Karate Champion?" "Of course not," said Bruce, "I want to kill the current World Karate Champion." Which he did very ceremonially.
1982
Respect Your Elders (or They'll Choke You Out)
While I was in Rio de Janeiro, Brazil in 1982, I visited the Helio Gracie School (The Founder of Gracie Ju-jitsu). After grappling with his sons, Royce and Rickson, I had the privilege of grappling with the master himself, Mr. Gracie, who was in his early seventies. I was able to get on top of him, but when I did, Mr. Gracie told me to punch him in the face. Startled, I said, "I can't do that Mr. Gracie." He insisted, so I timidly drew my hand back. That was the last thing I remember. When I woke up a few moments later, Mr. Gracie apologized for choking me so hard. I said that was fine, even though I could hardly swallow for a couple of days. Today I am a third degree black belt in Ju-jitsu.
1985
Do As I Say, Not As I Do
When I was filming MIA 2 high in the mountains of St. Kitts, Caribbean, I played a POW in a small camp in Vietnam. In one scene, I was hung up by my feet, hands tied behind my back, then the guards put a large mountain rat in a sack, tied it around my neck and let the rat have a field day with my face. Unfortunately, the fake rat did not show up on location. Frustrated and angry, realizing how important this scene was, I said, "Kill that live prop rat and pull me up by my feet." I put the dead rat in my mouth, they put the sack over my head, then I began thrashing like the rat was attacking my face… We had fake blood running down the rope that went into the sack and you could see the blood seeping out of the sack. When they took the sack off my head, the rat and I were covered in blood. Luckily, I didn't catch a disease!
1996
Immune To Rattlesnakes
I was filming a scene in Walker Texas Ranger, out in the woods where I was to grab this huge rattle snake with my bare hands. I sneak up to the snake and grab him by the neck, pick him up and count the number of rattlers on his tail. Now the director wants a second take, so I sneak up on the snake again and grab him by the neck. This time the snake was ready and bit me on the hand. I asked the snake wrangler if he thought I should go to the hospital to see if there is any venom in the bite. He said it wouldn't be a bad idea! No venom!
2003
The Need For Speed
I had the opportunity to fly with a Top Gun pilot and land on the USS Nimitz, 240 miles at sea. We landed the F-14 tomcat on the carrier and I was given a tour and was able to shake hands with all the sailors and marines. As we were flying back to Miramar, Maverick (his call name) said to me, "Let's pretend there is a bogey on our tail." He immediately went into evasive maneuvers, spinning one way and then the other, hitting up to seven Gs! After about ten minutes, I was about ready to hurl, but I thought, "If I do, he is going to tell all the other Top Gun pilots," so I said to Maverick in my headset, "Maverick, we lost him!" Maverick laughed and said, "I know what you mean."
2012
Never Bite A Wild Chuck
I did a cameo role in Expendables 2 in Bulgaria starring Sly Stallone. While I was on the set talking to Sly, he said, "You know these Chuck Norris facts are everywhere." I said, "Yeah, I know." Then Sly says, "Let's add one to our scene?" My wife Gena walks up and says, "I have the perfect one for you." Later, as Sly and I are doing our dialogue scene, he says, "I heard you got bit by a King Cobra." I say, "Yeah, I did! And after five days of agonizing pain… the Cobra died." We both laugh and give each other a big bear hug.
Head over to our Christian Resource page. There, you will find Spirit-filled audios, videos, articles, & downloadable books to aid you in your daily Christian walk. This includes historical writings from great men & women of God like Charles Spurgeon, John Fox, John Wesley, to name a few.
Learn More